Yep!  That's right!  All these years I thought I had too MUCH acid in the old tummy!
I've been doing some deeper research on this – while learning more about fermented foods – and it seems that our stomach NEEDS acid!  Who knew?
SYMPTOMS
Let's start off with some of the symptoms of  low stomach acid or in clinical terms, "Hypochlorhydria" …
I can check off at least HALF of these!  No wonder eating fermented (acidic) foods helps!
What CAUSES Low Stomach Acid? 
What are some of the causes of low stomach acid you ask? I was really surprised by some of these…
• Poor diet
• Stress
• Eating too fast
• Zinc/Magnesium deficiency
• Age
• High Sugar Intake
• Antacid medications and prescription drugs
• Food allergies or food sensitivities
• Infection or inflammation
• Chronic illness
• Smoking
• Obesity
• Excessive exercise 
And that's not all of the possible causes!  I sure wish I had known all of this sooner!
Natural "fixes"
So, how can we increase our stomach acid naturally?   I drink brone broth and kombucha already, so I was tickled to see those two on this list from Dr. Axe – these are some foods that help boost stomach acid – making my shopping list from this graphic!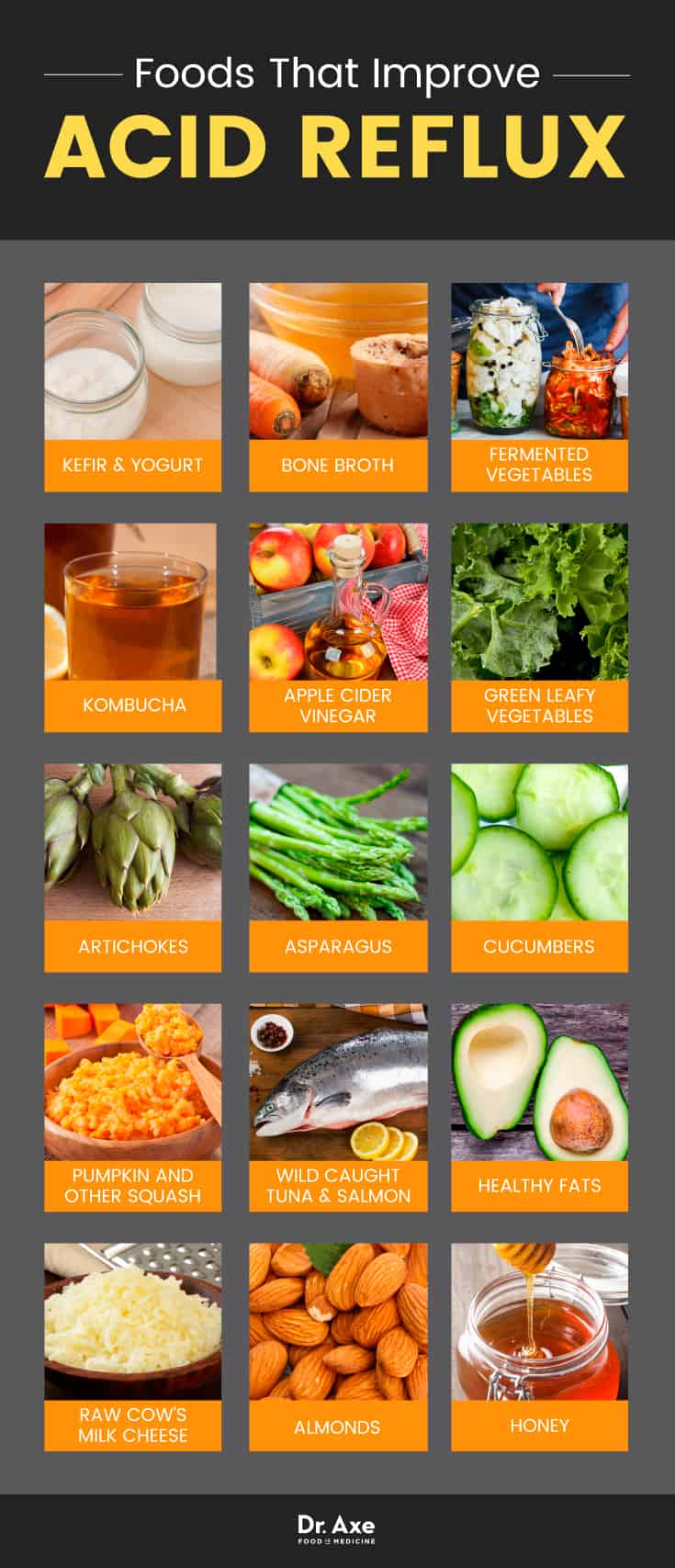 To help lower your stomach acid try to avoid these things….
Alcohol
Carbonated beverages, sugary drinks or energy drinks
Artificial Sweeteners
Fried foods
Spicy foods
Processed foods
Boosting your stomach acid naturally is easier than you might think!  Here are a few ways you can do that…
♦  Eat fermented foods – Kombucha, kimchi, ACV (apple cider vinegar), sauerkraut, pickles, yogurt, Kefir – anything that is fermented helps boost your gut flora and increase stomach acid.
♦  Take a good probiotic daily.  We take Life 9 Probiotic.  It's a proprietary, high-potency probiotic that combines 17 billion live cultures from nine beneficial bacteria strains. It helps promote healthy digestion, supports gut health, and helps maintain normal intestinal function for the overall support of a healthy immune system*.   I'd be happy to chat more about our favorite probiotic!
♦  Eat Ginger!  Ginger has great anti-inflammatory properties.  Remember, inflammation is one of the causes of low stomach acid.
♦  Take smaller bites of food and chew slower! This will stimulate your digestive enzymes.
---
This quote from Tribali Foods Blog really made me think…
"Doctors prescribe acid-suppressants and because those medications "put out the fire" by neutralizing gastric acid and create a more alkaline environment, which relieves the pain. But as we know, heartburn, indigestion, and acid reflux result from too little stomach acid rather than too much.
Until you address the problem of low stomach acid, you might rely on acid-suppressing drugs that only mask your symptoms. Again, you experience reflux and indigestion not because of too much acid, but because of misplaced acid that has found its way past the lower esophageal sphincter."
WOW !!!!!  That's like putting a band-aid on the problem instead of focusing in on correcting it!  I took PPIs (proton pump inhibitors)  for years!  Little did I know that they can actually do more harm than good and may even contribute to digestive system cancers with long term use!
Personally, I will never take any type of antacids again!  Here's a short list of side effects from Antacids – OTC and prescription from Dr. Axe …
That's just wayyyyyy too many side effects for me!!  I'll stick to DiGize Essential Oil roll-on and using some of the suggestion above!
Stay healthy until next time !
Blessings ~
Heather
*These statements have not been evaluated by the Food and Drug Administration. Young Living products are not intended to diagnose, treat, cure, or prevent any disease.